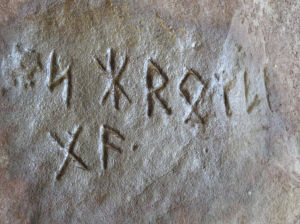 Back in the mid 1980s, the Rhode Island Historical Preservation and Heritage Commission came into possession (I'm not sure how) of a large chunk of sandstone (7 feet wide, 5 feet high, 2.5 feet deep) on which were carved the above symbols, some of which at least were ancient Norse characters. The sandstone thus came to be known as the Quidnessett Rock, or the Narragansett Rune Stone, and impressed experts on the Norse/Viking presence in
North America as authentic
.
The stone was apparently stolen from the RIHPHC in 2012, then recovered by law enforcement in 2013. This caused a flurry of press coverage and that in turn brought forward Everett Brown.
Brown now claims that
he
carved the stone, 50 years ago, thus some 20 years before its discovery. He was a 13 year old kid in 1964, fascinated by Vikings and skilled at carving -- he was also a kid whose family vacationed each summer on the Rhode Island coast. He had too much time on his hands and access to his father's tools and so ... voila! ... an authentic-looking artifact.
I first learned of this controversy only quite recently, when I happened to be taking in the beach air on Block Island, RI, and picked up a copy of the Block Island Times. It contains a column by J.V. Houlihan, a fellow who says he has known the self-identified carver, Brown, for decades and believes in his honesty.
Of course the only reason why Houlihan has felt it necessary to write such a column is that there are those who
question Brown's account,
continuing to believe that the stone pictured above is an authentic Norse relic.
Two women, sisters, who were children living on the coast in the 1940s, say they remember seeing a stone matching the description of the later 'discovery' in the tidal waters then. "I remember playing on the stone at low tide when it was showing and there were carvings," says one. If the stone they remember is the one now in possession of the RIHPHC, then of course it couldn't be something awaiting creation 20 years later.
A neat little mystery, especially for those of us who share the young Brown's fascination with Norse culture, and its presence in North America. My understanding is that if the rock is what it appears to be, that presence went a good deal further southward than has been thought.
What I would
like
to believe is that Brown is misremembering his childhood, or remembering a different rock, which may still be "out there" to be discovered. I don't know that he has any clear reason for attempting to pull off a conscious deception here, but it would be good to imagine the Norse presence as wider than hitherto thought, and as encompassing, at least in one scouting expedition, southern New England.
But of course the world is what it is and doesn't care what we would like to believe about it. the world is everything that is the case.