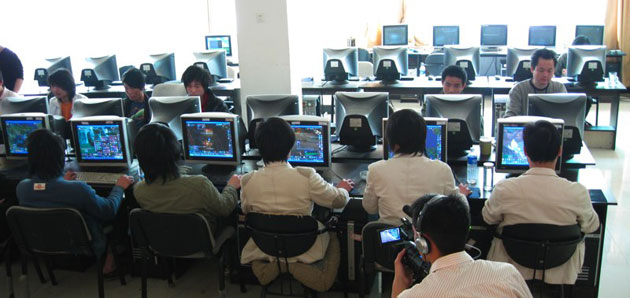 From a recent essay by Isaac Knowles, Edward Castronova, and Travis Ross,
"Secondary markets can be further split into two types -- sanctioned and unsanctioned -- as determined by the game developer. Third parties in this case are firms that buy assets from players and so-called 'gold farms' and then sell the assets to other players. Gold farms are firms that employ people to spend several hours a day inside of a virtual world gathering currency and items, or developing avatars on a particular game account, for the specific purpose of selling the assets or the accounts to players or retailers."
I had no idea there existed firms that employ people to spend their time inside virtual worlds in this way. What a business model!
At any rate, once I knew I entered "gold farms" into Google Images and got the image above, of the workplace of some of these farmers.